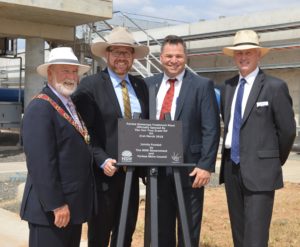 Unlike many other towns, Parkes does not have a natural water supply, and has been 'making do' with the original infrastructure for sewage and water since the 1930s, and 1950s respectively.
Last Wednesday, Member for Dubbo, Troy Grant, joined Mayor of Parkes Shire Council, Ken Keith OAM, to officially open  the new water infrastructure renewal projects as part of a $100 million program of works in the state's Central West.
Mr Grant said the NSW Government contributed to the infrastructure projects to provide the regional community with safe and secure drinking water. "Water security is vital to the life of regional towns and cities. These projects renew the town's entire urban water cycle, encompassing raw water supply, water treatment, as well as wastewater treatment."
"These upgrades represent the largest capital works program that Parkes Shire Council has ever undertaken," Mr Grant said. The NSW Government has worked closely with Council to help upgrade the Parkes Sewage and Water Treatment Plants, the Lachlan River Pump Station and Bore 8 refurbishment.
The new Water Treatment Plant uses state-of-the-art processes to treat the potable water supply. The Lachlan River Intake upgrades strengthen Parkes raw water supply and water security for Parkes.
The new Sewage Treatment Plant produces high quality effluent that increases treatment capacity and minimises impacts on the local environment. "These upgrades provide immediate amenity improvements for residents while
future-proofing their water supply," said Mr Grant.
Parkes Shire Council's Mayor Ken Keith OAM thanked the NSW Government for its contributions to the water infrastructure projects. "Council are incredibly proud of these new facilities, and of the flow-on benefits to the community."
The Council held a Community Open Day last Saturday to celebrate the completion of the new treatment plants, which attracted a steady turnout of locals keen to learn more about their water and wastewater services.