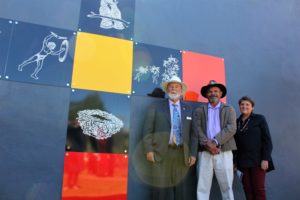 Peak Hill is the latest stop in the public art trail of the Parkes Shire with a series of artworks by a local resident unveiled at the new Community Wall this week. The six panels featuring constellations of Wiradjuri stories in the night sky by Scott "Sauce" Towney include beautiful drawings of The Mighty Yarran Tree, The Eagle's Nest, Cockatoos, The Seven Sisters, The Celestial Emu and The Great Creator.
"I am very humbled to be acknowledged by the people I grew up with. It is the pinnacle of my career," said Sauce, who has been a finalist in the NSW Premier's Indigenous Art Awards and has completed many commissions. He mentioned that his depiction of the Celestial Emu would be featured on a commemorative $5 coin next year.
Sauce specialises in drawing and pyrography and experiments with a variety of materials for his contemporary style of indigenous art. Chair of the Parkes Shire Cultural Advisory Committee, Councillor Barbara Newton said: "The development of public art in Peak Hill expands and complements the public art trail created in Parkes last year and is a great way of people meeting and greeting, while engaging the interest of visitors and adding to the colour and feel of the main street".
The public art space, a concept designed by Parkes artist Jac Clark, will be expanded to each village in the shire to enhance the public art trail and the vibrancy of each community.
By Maggi Barnard