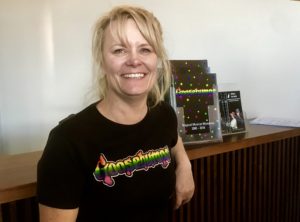 What incredible talent Parkes M&D showcases in Goosebumps! Under the stage direction of the talented Lyn Townsend and the musical direction of the gifted Neil Westcott, a cast of more than 50 players transported the packed audience through a gamut of emotions.
The audience was treated to many magical memories in the beautifully refurbished theatre as tens of past shows were brought back to life infusing the stage with joy, laughter, sadness, anguish, melancholy, delight and nostalgia.
"We are truly blessed with the calibre of talent in Parkes," said Lyn Townsend of her amazing team who moved many audience members to tears. An amazing team requires amazing direction. "Well yes," Lyn admits, " but I'm good at bossing them all around,"
Goosebumps is a celebration of Parkes theatre over the past 18 years, a true enrichment to the cultural landscape of our town.
Judging by the talent of the juniors coming up through the ranks, Parkes M&D will continue to flourish in the decades ahead. Limited seats available for this weekend's performances. Don't miss it!
By Beth Thomas