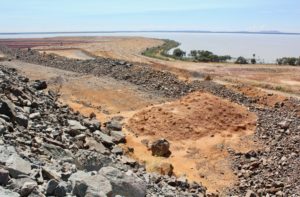 Gold has played a significant role in the history of Australia starting in 1851 with the Bathurst gold rush.
More than 150 years later, the Cowal gold mine near West Wyalong announced a modern day "gold rush" last month with its board approving an investment of approxi- mately $270 million to increase production and extend the life of mine by eight years to 2032.
Rated among the top five biggest gold mines in Australia, total production is set to increase to 1.2 million ounces.
Just as all the discoveries of gold all over Australia has boosted the economy, lead to the development of foreign trade, trans- portation, communication and many inland towns, an immediate benefit of the Cowal mine expansion, is an increase in employees with 48 new operators in the open pit and the plant.
Community Relations Officer at the mine,Tony Glasgow said interviews for the new positions had already started this week.
The mine currently employs about 400 staff and contractors from the Forbes, Bland and Lachlan Shires, with 64 residents making the bus journey from Forbes.
The new investment will deliver two major projects over the next four years: the E42 stage H cutback and the dual leach project. The E42 stage H cutback will widen and deepen the existing open pit by at least 80m. The pit is currently 340m deep. This has been made possible by a 145% or 2.28 million gold ounces increase in Cowal's Ore Reserves since Evolution acquired the operation in 2015.
The Dual Leach project will add an ad- ditional leaching circuit to the processing plant to target a four to six per cent in- crease in gold recoveries. This would result in gold production increasing by an estimated 10,000 to 14,000 ounces per year.
Situated on the banks of the largest in- land lake in NSW, Lake Cowal, the mine site has natural beauty not easily found at mines. Hundreds of emus, locally known as bush chooks, roam freely, as well as walla- bies, kangaroos, 277 bird species and two of Australia's deadliest snakes, tiger and brown snakes.
The environmental sensitivity of the mine site has not been without controversy, but according to Tony the mine operates to very high environmental standards to ensure the least possible impact. Cowal has received ISO14001 certification for mining and ore processing operations and support services for gold and silver production.
Evolution Mining bought the Cowal gold mine from Barrick Gold in July 2015 and described it as one of the most attractive gold assets in Australia. Cowal is the big- gest operation of the six mines in the Evolution group.