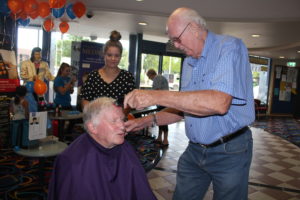 Two Parkes residents took a bald step on Sunday and raised more than $1,500 to help beat blood cancer.
June Edwards and Terry Knowles were the heroes of the World's Greatest Shave event at the Parkes Services Club on Sunday.
"I am very, very nervous," said June as she sat down for the big shave holding on tight to a framed photo of her and her late hus- band John. "I am doing it for him. He will be with me all the way." She lost John to cancer six months ago and did not think twice about doing the big shave.
June's aim was to raise $1,000 and she exceeded it by $50.20. With the help of two friends, Christine White and Gina Kondic they collected over $200 at the club on Sun- day during the event.
Club President Terry paraded around in an Elvis wig collecting money from patrons be- fore he took off the wig to look at his real hair for a last time. He auctioned off the rights to the first cut and for $50 Allen Boxsell was the man to do the honours.
Terry's great-niece Jacinta Knowles completed the job giving Terry a neat number 1 shave. He ended up raising $472.
Many other people joined in the event do- nating money to get colour spray on their hair.
By Maggi Barnard