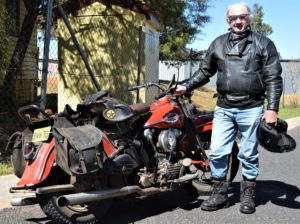 More than 50 motorbikes revved through Parkes on the long weekend for the 42nd Annual Motorcycle Rally organised by the Parkes Antique Motor Club. Riders gathered at the Henry Parkes Centre on Saturday afternoon for a short ride to Baldry and again on Sunday morning with the option of a short run of 150km to Yarrabandai, or a longer run of 250km to Bedgerabong.
The riders were mainly from NSW, including Griffith, Wollongong and Newcastle, but also came from as far as Queensland and South Australia. "They like riding out this way, especially with the older bikes," said local rider Paul
McClintock, "because it's flatter country and not many hills. Some of those old bikes, like the ones that still have pedals, only go 20 miles an hour."
On Sunday night the club held their presentation dinner at the Parkes Leagues Club where the votes were counted for each category, ranging from pre-1919 to modernday. There were some locals among the winners with Nym Dziuba getting first prize with his 1970s Kawasaki Z900. John Frogley came second with his 1950s bike, while Bob Steel also won second place with his 1914 Douglas.
The event, organised by rally director Bruce Danson, concluded with a farewell breakfast on Monday.
By Beth Thomas