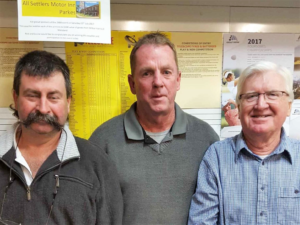 Last Saturday's Parkes Golf Club 18-hole four-ball-best-ball, sponsored by All Settlers Motor Inn, saw a three-way tie at the top with a countback required to determine the victors. Competing for the Keith Mill and Keith Cusack Memorial trophies, a superior back nine holes saw Peter Magill and Warren Blatch come out on top to win the day.
Magill and Blatch were matched by Vince Kelly and Mick Dellaca, and Victor Gaidzionis and Rob Lea, all on 45 points. Magill and Blatch were followed by Kelly and Dellaca, with Gaidzionis and Lea in third. Other ball winners included Rod Luyt and John Pearce (44); Jarrad Kent and Tim Baker (43); Riall Harrison and Justin Sutton, Steve Simpson and Ross Smith, and John Green and Tom Casey (42). Blatch's blistering round of 43 individual points saw
him win the Fred Cusack Memorial, three points clear of Mick Dellaca on 40.
Parkes lady golfers found the going very tough again last Saturday with conditions not suiting the 12 starters. With a number of ladies competing in the annual western Districts ladies Golf Association Rose Bowl, nobody in the reduced field could match their handicap in the 18 hole stableford event sponsored by Parkes Golf Club.
In another exciting competition, a fourway countback was needed to determine the victor. Winner was Margaret Hogan with 34 points, beating Colleen Flynn, Ann Berkeley and Kaye Jones via a countback. Dale Matthews was the final ball winner with 33 points.
By Denis Howard