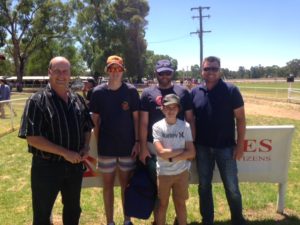 The nightmare of the terrible loss of the Parkes racecourse in the tornado-like storm late last year was turned around at the first meeting of the Parkes Jockey Club for 2017 when Dream Express won the race of the day last Saturday.
A good crowd of about 250 people attended the full TAB race meeting featuring the Australia Day Services Club Handicap and good quality racing. Anthony Cavallo was the jockey on Dream Express, trained by Alison Smith of Orange and owned by the Buckley family.
The Rural Fire Service stepped in to provide patrons a barbecue lunch as all catering facilities were lost in the storm.