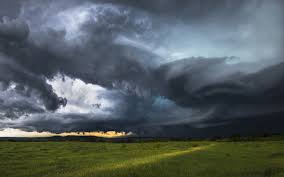 An application to declare the severe storm at Back Yamma and Cookamidgera late last year as a natural disaster have been approved. Central West Lachlan Landcare submitted an Agricultural Natural Disaster Assessment application following hail incidents and flash flooding that saw many crops and infrastructure significantly impacted in November 2017 when they were on the verge of, or had commenced harvest.
The approval means landholders impacted by the event can access disaster relief loans and transport freight subsidies. Marg Applebee, Coordinator for Central West Lachlan Landcare said the Back Yamma and Cookamidgera areas had some of the most fertile soils in the Parkes and Forbes Shire areas. "This funding will enable primary producers, some of whom suffered significant crop losses and other infrastructure losses, to address immediate concerns and enable preparation for this year's sowing season."
Last week member for Orange Philip Donato met with affected landholders, Cr Neil Westcott and Cr Steven Karaitiana from Parkes and Forbes Shire Councils respectively, Alli Gartrell from the Rural Assistance Authority, President of Parkes and Forbes NSW Farmers, Gavin Tom and Marg Applebee to share the good news of the declaration.
For landholders seeking further details, information may be accessed through the Rural Assistance Authority website at www.raa.nsw.gov.au and are encouraged to contact Marg Applebee on 6862 4914 if assistance is required with applications submissions.