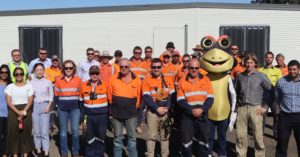 The installation of the Recycled Water Rising Main reached the halfway mark last week with 50% of the schemes purple pipes now laid. Construction is on track to be completed in July, with 6.7km of the 12km of pipeline now installed that will service up to 20 sites in the Parkes urban area.
"The Recycled Water Scheme is a responsible solution to water shortages, but the benefits are flowing even before the taps are turned on," said Parkes Shire Council's Director Infrastructure Andrew Francis.
According to Andrew the construction phase has generated 33 jobs with 13 going to local workers. Some specialist personnel could not be sourced locally, but that brings workers into Parkes and benefits local businesses.
"Parkes has been really fortunate with the level of investment and development over recent years. We have been able to generate significant local spend during construction with some project components spending up to 80% of their budgets in the region."
The water and sewerage upgrades engaged 67 local businesses and suppliers at various stages and provided jobs for 329 individuals. The $20.9m Recycled Water Scheme is jointly funded through the Australian Government and Parkes Shire Council.