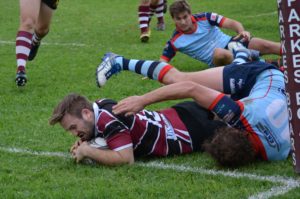 The Parkes Boars had to face the hard running Dubbo Kangaroos without key first grade players on Saturday, which favoured the opposition to win the match 26-22.
The Boars opened the scoring when fly half Lloyd Rogers ducked, dived and ran through the Roos defence to plant the ball under the posts. Rogers converted his own.
Kangaroos kicked to restart – the crowd appreciated Israel Symington's AFL style jump to take the ball. The match began to settle, but an infringement by Parkes gave Dubbo a scrum feed on the 5m and enough go forward to cross the line. The conversion was successful.
Dubbo crossed twice more during the half with Parkes restricted to taking a deep penalty kick. The half time score Boars 10 Kangaroos 19.
The second half was as physical as the first with the Boars lifting their game. Lock Toby Baigent took a screamer and returned the ball 25m through the Roos defence to be brought down under four defenders. His quick pass sent the ball safely into the hands of the inside centre Ben Powlay. Powlay crossed wide.
Parkes cross the line again through the kick, run and chase of newest team member hooker Bobby Waititi. Rogers added the extras and the Boars had the lead at 22-19.
With 5 minutes to go inside centre Billy Sing of the Roos found the line and crossed next to the posts. The extras were added and the Roos took the lead 26-22.
Referee Richard Madden described the match as hard and fast for so early in the season.
By Cath Ryan