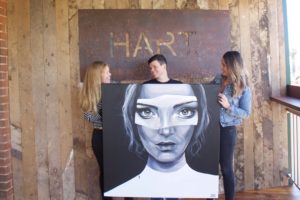 If you haven't already, be sure to get to Hart Bar this weekend to check out this beautiful new venue in Parkes! With enough space to cater for almost any event, you need to make sure your next event is at Hart Bar! It is available Monday to Friday for corporate events, and Wednesday and Thursday nights are available for dinner – making the perfect excuse for a mid week catch up!
With the busy time of year picking up, weekends are now booked until Christmas, but if you have something in mind for the new year make sure you book in as soon as possible as the calendar will fill up quickly! This weekend the bar will be open for lunch and dinner Friday, Saturday and Sunday with Jac Clark's art on display to celebrate the official opening. The Railway lunch and dinner menu will be on offer along with the new share plate menu exclusive to Hart Bar in the evenings. Booking are essential so make sure you get in quick.
The new exhibition by Jac Clark titled Figure is exploring the boldness of a monochrome palette and its place in portraiture. The original large scale artworks will be available for purchase along with limited edition prints of each piece.