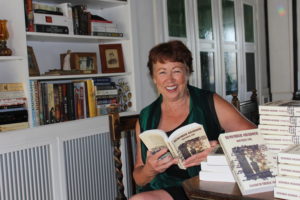 Travel can be a life changing experience, and this was certainly the case for Beth Thomas; the ruined village of Oradour-sur- Glane in the heart of France and its incom- prehensible war-time history ultimately in- spired her first novel.
"The story kept coming back to me. It was like the voices from the past wanted the story to be told," Beth said.
Beth is an education consultant and tutor, and although she has been teaching essay- level writing, this was her first attempt at creative writing since the short stories she wrote in teachers' college.
"The story was already there, it was a matter of sitting down and putting it on paper. It was like turning on a tap – once I sat down and started, it all just came flowing out."
Beth spent two years writing, which also involved extensive research into both his- tory and French culture.
"I had masses and masses of notes and research. I would find facts I hadn't known before, and they just slotted into the story perfectly," she said. "It took a lot of research to really gain an understanding of another culture."
Completing a manuscript is a triumph in itself, but many would suggest that finding a publisher is equally arduous. Prolific authors Stephen King and JK Rowling openly discuss their many rejections.
In contrast Beth's first correspondence from a publisher was an acceptance letter – a remarkable achievement for a debut novel and testament to her talent.
"When I first wrote it I didn't care if I was published. Once it was written I thought I'd see what would happen, and I sent it to a few publishers."
Six weeks later she had a book deal. "I'm still overwhelmed myself," she said.
The book will be launched locally at The Little Theatre on Bogan Street at 4:00pm