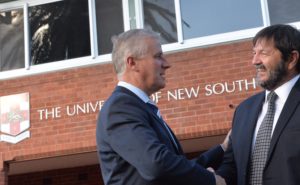 Plans to build a rural medical school in Wagga Wagga have been welcomed by students and practitioners. Sam Roberts is a final year medical student at the University of NSW's Wagga Wagga campus and applauded the move, saying it would open up opportunities for students unable to live and study in metropolitan centres.
"The medical school will allow students to study closer to home where they have support," he said.
It was announced in the Federal Budget recently that the Government would invest $95.4 million to establish a medical network including the University of NSW (Wagga Wagga), University of Sydney (Dubbo), Charles Sturt University/Western Sydney University (Orange), Monash University (Bendigo, Mildura) and the University of
Melbourne/La Trobe University (Shepparton, Bendigo, Wodonga).
Member for Riverina Michael McCormack met with the Rural Medical School Implementation Committee (RMSIC), representatives of the University of NSW, Wagga Wagga general practitioner and obstetrician and medical students to discuss the highly anticipated project.
"We are all excited about not only what a dedicated medical school in Wagga Wagga will deliver for this region but also about what the wider network will mean for improved health services in rural and regional NSW and Victoria," said Michael.
"Evidence shows newly-graduated doctors are most likely to choose to live and work in rural areas if they and/or their partner have a rural origin, and also if they have spent a considerable amount of their training time in regional and rural areas."
The head of the University of NSW Medicine's Wagga campus, Associate Professor John Preddy, said the Wagga Wagga medical school would provide a total medical workforce solution for the Riverina area.
"I think the Federal Government has developed an elegant solution in putting together a network of five rural medical schools," he said. "By having five schools instead of just one they are not overburdening one individual city."