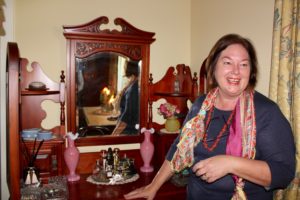 More than 400 people took advantage of a glorious autumn day to step back in time visiting the six heritage homes that opened to the public on Sunday.
A mood of admiration and appreciation prevailed as residents and visitors from across the state as far as Sydney admired lovingly restored and cared for homes and gardens. "It is just so beautiful," was a remark heard over and over again.
Parkes Shire heritage advisory committee chair, Councillor Alan Ward said it was a tremendous turnout for the inaugural year of the Sunrise to Sunset – Parkes Heritage Homes open day.
"It was a wonderful start and has created a lot of interest in the history of our build- ings." said one of the home owners, Ann Olson. "I think it is the start of something really big. I like it that we still have people living in our heritage buildings and they have not all been turned into museums."
Ann also hoped the involvement of the National Trust would result in some benefit to the community even if it was just to give owners advice on the restoration of and additions to old buildings.
Alan thanked the home owners for allow- ing people to explore inside their homes. "It was scary to open your home to the public," said Ann. "But it is a way of sharing the way we live with others, and that was part of the message of the day."
Ten lucky guests won a chauffeured tour with the Parkes Antique Motor Club transporting them between each of the homes in style.
"It is a wonderful experience." said Lynne Hawley, regional director of Quota International who came from Condobolin for the day to be chauffeured by Bob Steel in his 1926 MG.
By Maggi Barnard