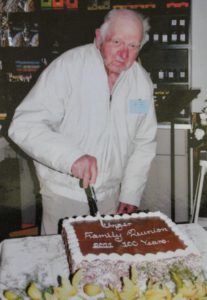 The initiator of the Henry Parkes Museum is celebrating a milestone birthday on Monday. Len Unger is turning 100 on 27th February, and the Museum will be celebrating its 50th anniversary this year.
"The Parkes Historical Society would like to pay tribute to one of our oldest members, Len Unger," said Yvonne Hutton, President of the Parkes Historial Society. "Len is the only member of our Society left who had the forethought to start Henry Parkes Museum 50 years ago in 1967. "We first opened in the Salvation Army Citadel but we were only there for a short time." Yvonne said Len lent the society the money to purchase their sec- ond home, the Masonic Hall.
"Len was also a founding member of our Pioneer Antique Machinery Museum in 1970, and we are still here on Peak Hill Road 47 years later." According to Yvonne, Len and several other members scoured the Parkes district for many of the Museum's very valuable machinery itmes. "Len and all those early members worked so hard to preserve our town and agricultural history," said Yvonne.
Len is a resident at Rosedurnate these days. "Happy 100th Birthday Len from all the members!"