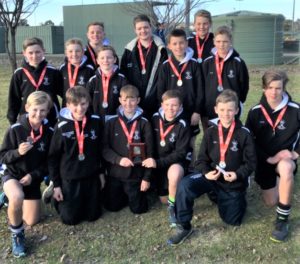 Parkes junior hockey is on a winning streak with the U13 Boys team becoming joint Division 1 State champions last weekend in Wagga Wagga.
The Parkes 2 team did themselves proud clinching third place in Division 3 and getting the Play the Whistle Award for outstanding sportsmanship. The Parkes 1 team's victory comes only three weeks after the U15 Boys team won the Division 2 state title in Parkes last month.
The Parkes 1 team were undefeated in their round games played over the first two days of the carnival, securing wins against Grafton 1 (1-0), North West Sydney 1 (2-0), New England (4-0), Goulburn 1 (2-0) and a draw with Illawarra South Coast 1 (2-2).
On Sunday the boys took on Metro South West 1 in the semi-final winning 3-1 to secure their place in the final against Newcastle 1. Neither team were able to score, despite Parkes having the majority of play towards later stages of the game. Several penalty corners in the dying minutes could not be converted by Parkes, and with the scores locked at 0-0 both teams were declared joint winners! Official records were not available, but it might be the first time in about 30 years that Parkes has won the Division 1 title in the U13 boys age group.
At the conclusion of the carnival, more good news came Parkes' way with centre midfielder Ryan Dunford named Player of the Tournament, and seven team members were named in the U13 Boys NSW squad! They are Thomas Searl, Ryan Dunford, Toby Collins, Joseph Tanswell, Jack Skinner, Edward Murray and Nathan Marshall.
This brings Parkes' total of NSW junior squad members for 2018 to 18 – an outstanding achievement.