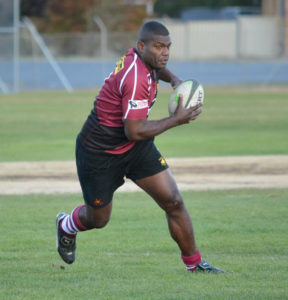 The Boars played away from home for the third week in a row taking on the Dubbo Rhinos. The 2nd grade side was first out with Timmy Lawler and Ben Rathbone adding much needed experience to the youthful side, but the Rhinos managed to win the match 29-5. In the 1st grade game the Rhinos were first to score, while the Boars lost their no. 8 Jarrod Westcott after tripping over his shoelaces and dislocating his knee.
The pace and flare of the Rhinos backline was on show and they went over the line again to make it 14 – 0. In one of the most majestic pieces of play on a rugby field Dylan Hood found himself  in a position of isolation on the right hand flank. His feet went in, then away, then in, then away again. This wrong footed the three Rhino defenders and gave him room to race around the defenders and glide over the line.
The Rhinos hit back immediately before the break to make it 19 – 5. James Sellings kicked to his brother, Jonah Ruzgas produced the tackle of the season and jolt the ball free. It rolled over the try line and Dylan Hood dived on the ball for the fastest try.
Dyllan Phillips was next to a much needed try for the Boars to take it to 19-15. With only minutes on the clock Rhinos
got a turnover and snuck down the far touch line to score in the corner and signal an end to the game: 24-15.
By Rory Nock