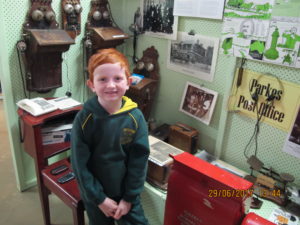 The household of the previous century was a vastly different place compared to our modern kitchens with all its amenities and gadgets. The Parkes Historical Society has been offering local and out of town students a peek back in time with a fascinating display of more than 200 different household items.
Through the society's education programme with Australian Charities and Notfor- profits Commission (ACNC) status, students are able to visit the Henry Parkes Museum. This year the focus is on grandma's daily chores. The first school to visit was Holy Family Primary School who spent a day discovering the many treasures at the museum with staff.
"They walked to the museum via Bushmans Hill," said Yvonne Hutton, President of the Parkes Historical Society.
Students visited the machinery area where they could run around, climb on and sit in the driver's seat of the old tractors and trucks, while the Silver City Comet carriage and Big Four were very popular too.
After lunch they sat down to learn more about the households of yester year. "Many of the objects shown were a complete mystery to them, while some objects they remembered grandma having one of them," said Yvonne. "In those days there were no stoves or washing machines, let alone microwave ovens."
"It was a very happy and enjoyable day for the museum staff, teachers and students." Following on the success of the Holy Family day, the next visit came all the way from St Raphael's School Cowra. According to Yvonne the next group due to visit is Parkes Public School with the other primary schools to hopefully follow.
The museum's education program also caters for two Parkes High Year 12 students who visit once per week to help out.