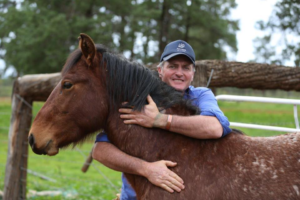 Skiing isn't the only thing winter brings to the Snowy Mountains; the colder weather also heralds the start of brumby season. According to researchers it's a bleak environment for horses; with little feed on the ground by the end of winter many are in a pitiful condition, some will have perished. National Parks runs a passive trapping program through winter to reduce the feral horse population; while it remains a contentious issue, it is seen as preferable alternative to culling. While some of the lucky ones – often foals and yearlings – are saved by rescue organisations, many of the older mares and stallions were inevitably sent to slaughter because no one could take them on.
Until now.
A family from Cobar have set out to help save the Kosciusko brumbies. Joe Hughes, along with his wife Mel and their four kids, take all the surplus brumbies in a bid to rehome them. They truck them from the holding pens in Tumut to their homestead in the heart of New South Wales. The mares are spelled in the back paddock to give them the opportunity to foal, and the stallions are gelded by a team of veterinarians. The ultimate goal is to train them for new homes.
The Hughes' offer a week-long clinic to show new owners how to train their own brumby; not only giving the horse a second chance at life, but also teaching the owner Joe's incredible training methods.
It might sound like a rugged cowboy experience full of lassos and bucking broncos, but in practice it's more like "How To Train Your Dragon" – only with brumbies.
Joe's training technique is as simple as it is spectacular. In just a matter of minutes he can tame an untouched horse using nothing but the clap of his hands and an averted gaze. In a matter of hours a brumby could be ridden around the yard, or stand calmly while someone slides off its rump.
One of the first brumbies he trained is now a kids' pony. Kosi is a pony club champion, winning ribbons just months after coming out of the Snowys.
"Brumbies are such quality horses," Joe said. "They're physically hardy, but also so smart, and so trainable."
While the horses are undoubtedly majestic, the real magic is in Joe's ground-breaking groundwork. The method, which he has dubbed 4BP (for brumby protection), is the product of his  life-long horsemanship experience; as a young boy on a station he had to train his own horses, but he lacked the physical strength to dominate them. His solution was to develop a technique based on understanding, trust, and respect.
His technique is so easy that even novice handlers can train a brumby.
I was lucky enough to be one of them. Over five days Joe and his 18 year-old daughter, Lauren, coached me through the process of training my own brumby mare. First I taught her to look at me, then how to trust me, and finally how to carry me. By the end of the week my previously untouched brumby mare was under saddle and stopping on voice commands. But for me the most incredible thing was developing a bond with a 'wild' horse in a matter of hours.
Joe is not the only horse trainer working to save the brumbies; there are tireless individuals and organisations all over the country who rehome brumbies and campaign for their welfare, and they all provide an invaluable service for these majestic creatures.
What sets Joe apart is the effectiveness of his 4BP method, the ease with which even beginner-riders can learn his technique, and the generosity with which he shares his knowledge and opens his home to people from all over the globe. Taming a wild horse is a unique experience but Joe would like to see it become as accessible as possible. His willingness to take the surplus Kosciusko brumbies and train them for homes saves them from slaughter.
He offers a win/win for the hotly debated environmental management of the parks. As Joe puts it: it's saving our environment through saving our heritage.
For more information or to register for a clinic visit 4BPhorses.com or find them on Facebook.