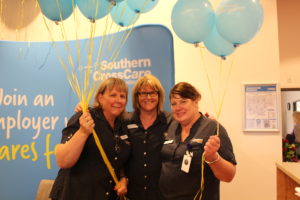 More than 1,000 people enjoyed the open day at Southern Cross Care last Saturday when its new world-class home was officially opened. "It was really terrific support from the community and great to see families and young people come along," said Marketing Manager Sean Wilson.
A new 62-bed world-class residential aged care home, designed by Architects Johannsen & Associates from Sydney, has been developed at a cost of $22 million in Parkes. The new facility, accommodating over 200 seniors, has almost doubled its capacity from when it first started in 1992.
Setting a new benchmark for a regional aged care facility, it has been conceived as a rural village and was designed around landscaped courtyards and connected by walkways and verandas.
The complex also has a chapel, community hall and cafe to help generate a focus meeting place for residents and visitors. Chief Executive Paul McMahon said: "Our vision was to provide Parkes and the Central West with a residential care home akin to the best you'll find in a major city. A further drawcard will be the new Home Care
office offering a range of activities and services aimed at customers who want to get involved within our community, while still living independently at home".
At the open day a festive atmosphere prevailed as young and old enjoyed a variety of activities on offer throughout the day.
By Maggi Barnard