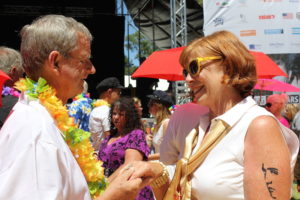 Las Vegas is infamous for eloping couples, where fools rush in to be married by an Elvis, but the Parkes Renewal of Vows has a more romantic take on this tradition.
On Sunday 39 couples declared their un-dying love at the popular ceremony before wedding celebrant Andrew 'Elvis' Appleby, and a massive public audience. Tribute artist Jake Rowley serenaded the loving couples, and they cut a wedding cake crafted by Kath Swansbra.
Parkes couple Lorraine and Kim Cham- bers were the only local couple to renew their vows this year. They have five chil- dren, and nine grandchildren, and are celebrating their 40th Anniversary. They were married in 1977, the year Elvis left the building, so Elvis is very special to them. They also wanted to share the special moment with their dear friends Colleen and Peter Blair-Hickman, who are celebrating 24 years of marriage this year. This is the second renewal of vows for the Blair-Hick- mans; who were the first couple to renew their vows at the Parkes Elvis festival 11 years ago.
Phil and Gail Voss came all the way from Perth, and renewed their vows as a celebration of their 50th wedding anniversary. Hearts were all a-flutter when Phil greeted his wife on bended knee. The trip was a gift from their daughter and son-in-law for Phil's 70th birthday, and included seats on the Elvis Express. Phil is an Elvis Tribute Artist, performing in nursing homes and retirement villages in WA. "The dementia patients' eyes just light up when they see him in costume," Gail said. "They just love it." This year was the couple's first time at the festival and they were blown away. "I never met Elvis in the flesh," Phil said, "but this week I got as close as I was ever going to get."
By Raen Fraser