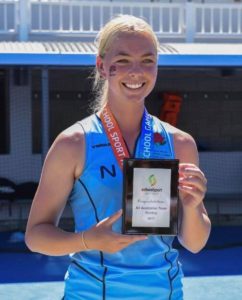 Taking a break from hockey proved to be a good strategy for a young Parkes player who was selected to play for Australia last weekend.
Sixteen-year-old India Draper played for the NSW U16 team at the Pacific School Games in Adelaide in the grand final against Queensland. The strong NSW side unfortunately did not walk away with gold as Queensland won the title with extra strokes after a 1-1 draw.
This disappointment did not last very long as India was selected for the Australian U16 side with six of her NSW team mates straight after the final. "I did not expect it, as I have just got back into hockey again playing my first carnival for a long time."
The Australian team is touring to South Africa next year in June for an international hockey test match series. "I am very scared of going on planes, but I've never been overseas and feel very excited about the trip," said India.
Her mum Amanda, who is one of the 19 Parkes torch bearers for the Queen's Baton Relay, will be joining the supporters tour to South Africa. She said India had trained very hard under the excellent coaching and support of Glen Johnston and Aaron Hubbard.
"They have always believed in her." India, who went to the same primary school as Mariah Williams at Middleton,
looks up at her for inspiration. "I always watch her games on TV."
Going into Year 12 at Red Bend Catholic College next year, India plans to take it slowly with hockey. "After the South Africa tour, I want to come back and rep for Parkes, and try out for state teams." Her biggest concern is that it is too long to wait for the hockey season to start again in April next year. "I can't wait, I just love playing hockey!"
By Maggi Barnard