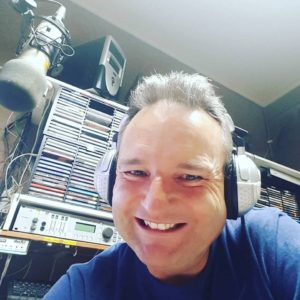 You might have heard him on 2LVR community radio, or seen his reviews in The Parkes Phoenix – whichever way Monte and his famous hashtag have become a household name over the past two years. He got his big break in commercial radio recently and has moved on. The Parkes Phoenix caught up with him just before he left town.
1. When did you start at 2LVR and how did your show evolve over time? I started on 26th January 2015 doing a rock
request show called Monte Rocks Your Friday Night. A few months later I started to find all this great independent music by Australian artists that we just didn't get to hear. A friend said I should make a show focusing on this music. I then had the idea of interviewing the artists and my new show, Montefamous Mondays, was born.
2. What was the highlight of your time at 2LVR? The biggest would be being invited to attend and present an award at the Music Oz Independent Music Awards last year. To actually meet so many of the artists I had interviewed was a big deal for me.
3. What did you learn that you will take with you? Always be yourself on air, be authentic as listeners can tell when you're faking it. If you are excited to be interviewing someone, let it show.
4. How many interviews did you do during your time at 2LVR? After 90 episodes I have interviewed 270 independent Australian artists.
5. What are you going to do next? I am moving to Inverell to become the breakfast announcer on 2NZ. I have achieved a dream, to be a paid announcer on radio.
6. Is this a big challenge? It is going to be a huge, but fun challenge.
7. Where do you see yourself going as a presenter on radio? I want to keep my passion for Australian independent music alive, so I will be moving Montefamous Mondays to a podcast in the new year. I would love to turn it into a national show one day.
Monte also wanted to thank the people at 2LVR for believing in him, and The Parkes Phoenix for publishing his reviews weekly. "It has meant a lot to me and the artists."
By Maggi Barnard