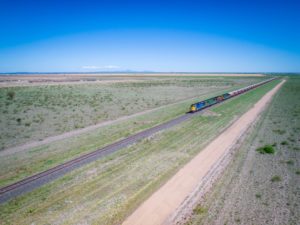 Economic benefits of the Inland Rail project are starting to roll in for the production and transport sectors.
Twenty new jobs were created at Rocla's Braemar concrete sleeper plant in Mittagong after the company was awarded a $20 million contract to produce 200,000 sleepers for the first stage of the project in NSW.
"The 200,000 concrete sleepers required for the Parkes to Narromine section of Inland Rail is the first of 1.5 million that will be required to build the full 1,700 km length of the Inland Rail from Brisbane to Melbourne," said Inland Rail Programme Delivery Director Simon Thomas.
Rail company Pacific National is also benefiting by making the first delivery of sleepers to Peak Hill last month. Over the next six months, Pacific National will run a train once a week from Mittagong to Peak Hill carrying around 9,000 concrete sleepers each trip. "When it comes to hauling bulk freight, rail is the safest, most efficient and environmentally- friendly mode of transport – to move 200,000 concrete sleepers by road would take a thousand B-double trucks," said Pacific National President of Freight Andrew Adam.