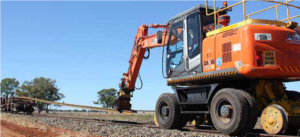 The year started off on a very encouraging note for the economic outlook of the Central West of NSW with Parkes at the centre with the first delivery of steel rail for the Inland Rail project. "This is a great day for regional Australia, but more importantly, it is a tremendous day for our nation," said Deputy Prime Minister Barnaby Joyce as the first rail of 165m and weighing 9.9 tonnes were being off loaded at Peak Hill on Monday.
The Deputy Prime Minister said the 1,700km project from Brisbane to Melbourne with a capacity to carry 1.8km long trains at speeds of up to 120km per hour, would provide people in regional areas with the capacity to be part of this corridor of commerce.
Member for Riverina, Michael McCormack said the Central West alone would see an economic benefit worth $480 million. "This ribbon of steel of 1,700km is going to transform regional Australia."
Parkes Mayor Ken Keith added that Parkes would be a major beneficiary as a major national logistics hub. He said the construction of a $35 million facility by National Pacific including a roundabout to handle the 1.8km long trains, would connect Parkes with all the ports of Australia.
The first delivery of 14,000 tonnes of steel rail for the Parkes to Narromine section, manufactured by Liberty OnseSteel Whyalla Steelworks, is enough for 5km. Further deliveries will be made every two weeks to complete this section of 107km.
By Maggi Barnard