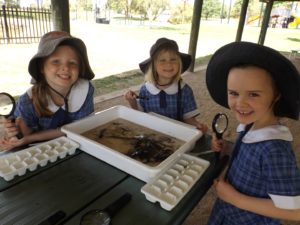 Kindergarten students from Parkes Public School got out of the classroom and into nature during a spring excursion to Bushman's Dam. The excursion was organised by Marg Applebee of Central West Lachlan Landcare and Michael Chambers of Parkes Shire Council, and provided a range of hands-on activities that focussed on living things.
A replica model of an urban wetland demonstrated how vital water is. The interactive lesson used dye to show how easily chemicals can get into our creeks and dams. In another activity, students sampled water and used magnifying glasses to identify some of the tiny creatures that live in the dam, learning that water-bugs indicate the health of the waterways.
The native animal lesson used puppets to engage the budding biologists while they learnt about habitats and the threats posed by land clearing, weeds and feral pests. The students also potted vegetable seeds, which the young green-thumbs took home to nurture.