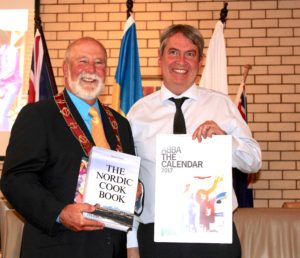 A special bond between Sweden and the Parkes Shire started last Friday when the Swedish Ambassador to Australia was welcomed at a civic reception in Parkes.
"I feel so inspired," said Ambassador Pär Ahlberger, who was on his way to attend the Trundle ABBA Festival for the first time. Be- ing from a small town himself, he said: "The backbone of any society is what matters in rural areas. It was quite emotional watch- ing the Landline documentary on last year's festival as it is about joy and fun, but also about hope and optimism about the future." The Ambassador said he had sent informa- tion about the festival to the ABBA Museum in Stockholm and they were very touched by it. "They are considering bringing their ABBA exhibition to Australia."
Mayor Ken Keith, welcoming the Ambas- sador sporting a blue shirt and yellow tie, said Australia's unwavering support helped to put ABBA on the international scene. Ambassador Ahlberger agreed saying ABBA is the soundtrack of the special relationship between the two countries.
With the help of the Ambassador, the ABBA Festival had Swedish-sponsored prizes for the first time with generous prizes from Ikea for the music trivia night, as well as the shopfront competition for business in Trundle.