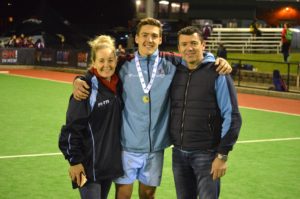 Imagine being paid to do what you love, and travelling the world because of it. Twenty-year-old Kurt Lovett is living this dream. The former Parkes local moved to Sydney after school to play hockey with the NSW Institute of Sport.
Earlier this month Kurt captained the NSW under 21 hockey team, claiming gold in the National Championships in Wollongong.
The NSW Sky Blues topped off an undefeated season and claimed victory over Queensland in a match that provided
an antidote to the State of Origin. "It was a bit of a relief to finally get the gold medal," Kurt said. However, his success isn't limited to national fields. Last year he represented Australia in the Junior World Cup. He also played hockey in Vanuatu and South Africa, and will soon be heading to Germany to train for an Australian development side.
"It's going to be my first trip to Europe," he said. "We'll be playing a few different European sides." But he said it was not just the travel or the wins that made it such a satisfying pursuit. "It's a sport that really keeps on giving, there's always something to improve and something to get better at." His love of hockey was fostered in Parkes at a young age. Kurt credits the unique hockey environment at Parkes as part of the reason for his success. "You get an opportunity to play with a lot of older people at a young age," he explained, "so you develop your game a lot sooner and you are a lot tougher on the field."
Kurt is aiming for a professional career in hockey. "I'd have to move to Perth for the Australian Institute of Sport where the National Hockey training is based," Kurt said. "I would like to go to the Commonwealth Games, and Tokyo Olympics."
By Raen Fraser