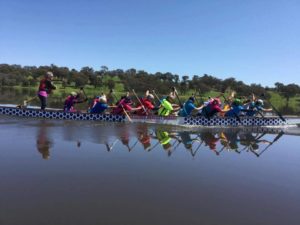 Three Lachlan Dragon paddlers joined 36 other dragonboat enthusiasts from NSW at Burrendong Dam over the long weekend to be coached by renowned Canadian coach Kamini Jain. Warren and Donna Edwards and Claire Davis had a fantastic weekend with members from Dubbo, Forbes, Orange, Bathurst, Lithgow, Sydney, Wagga Wagga and Wollongong. "We were a little concerned about the weather forecast," Donna admitted, "but were on the water by nine o'clock on Saturday morning, the waters were calm and Lake Burrendong at 126% capacity looked magnificent."
"The afternoon paddle was smooth and surreal," said Warren. "It was the most peaceful and relaxing feeling, with us being the only ones on the Lake, apart from the birdlife and an occasional fish breaking the calm surface." Under Kamini's excellent coaching the paddlers could feel their techniques improving, and each paddler's performance
was filmed for individual evaluation and discussion.
Although this mixed bunch of paddlers had at first seemed a bit of a motley crew, by Sunday they had come to resemble something close to two professional crews paddling in harmony and rhythm across the still waters of Burrendong. "I can't speak highly enough of the skills passed onto us by Kamini," said Warren. "The results, by Sunday, were spectacular and I really feel that Kamini was proud of her efforts and success."
"It was a great weekend of learning from Kamini," agreed Claire, "as well as from each other. And it was a real joy to feel part of this group as we watched each other's skills develop." If you would like to be part of this great sport, you can find us on Facebook or just come and meet us on Lake Forbes at 8:15am on Sundays or 5:45pm on Thursdays.
Wear some sporting gear with old joggers or water shoes and bring your water bottle, hat, sunscreen and mozzierepellent. We'll supply you with a paddle, a buddy to sit with in the boat, and some good friendly company.
By Beth Thomas