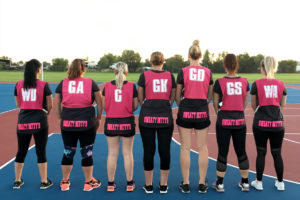 What a great start to our ladies competition enjoying the last few weeks of daylight savings. Hope all our players had a wonderful Easter break.
No player is to take the court this week unless they have registered and paid their netball fees. There are still a few players who have not registered online through MyNetball.
If you are having troubles with online registrations or payment please let us know. So great to see teams for filling their umpiring duties each week, please remember to print your name when you umpire so we can work out umpiring payments. It is also important that all players sign the score card each week, and if there are any stoppages for injury they are to be recorded on the back of the scorecard.
Junior netball is starting this Saturday 7th April, if there are any senior players who would be interested in coaching, umpiring or helping out please contact Calli Miller
Results Round 4
A Grade: The Star Budgies 29 def U15s Parkes Reps 24. Inline Panel & Paint 23 def Parkes Cellars 21
B Grade: PHST 38 def U14s Parkes Reps 14. Sweaty Betty's 10 def Platelets 8
Round 5 – Tuesday 3rd April
• Setup: The Star Budgies
• Pack Up: Inline Panel & Paint
A Grade – Court 1
• 6:00pm Inline Panel & Paint v The Star Budgies (Umpires: U15s Parkes Reps + Parkes Cellar)
• 7:00pm U15s Parkes Reps v Parkes Cellar (Umpires: Inline Panel & Paint + The Star Budgies)
B Grade – Court 3
• 6:00pm Sweaty Betty's v U13s Parkes Reps (Umpires: Platelets + U14s Parkes Reps)
• 7:00pm Platelets v U14s Parkes Reps (Umpires: Sweaty Betty's + U13s Parkes Reps)
• BYE PHST
By Lisa Nutley