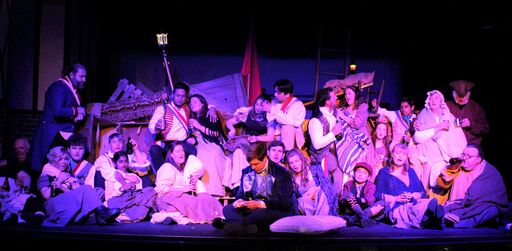 'Powerful' is one word that comes to mind when reflecting on the stellar performance of the Les Misérables cast at Parkes Little Theatre.
Directors Lyn Townsend and Neil Westcott outdid themselves in producing this epic Boublil & Schönberg's musical based on the work of Victor Hugo. The challenge, which in 2014 was seemingly impossible, of presenting this massive musical on the small stage of the Little Theatre only met with the already-proven determination of the two directors who, in their own words, 'don't do ordinary.'
"Technically, Les Mis has been a massive challenge and caused a few sleepless nights," said stage director Lyn. "However, we recognise our responsibility to keep on raising the bar."
Musical director Neil Westcott agreed that this challenge could not be understated, adding "but neither could the absolute commitment of our cast, band and crew.
This has been a journey of joy and discovery, of seeking a new level of musical and technical excellence, way above anything we have attempted before."
Every actor played an incredible and convincing role filled with raw emotion. Aaron Kingham's intense performance as Jean Valjean shone throughout the entire show. Shevaun Brown brought passion and real tears in her courageous performance of Fantine.
Andrew Francis was a very convincing Javert, his spectacular front-on fall from the bridge was perfect. Kimberley Ryan was an outstanding Eponine, commanding the stage in every appearance. Rachael Westcott was a beautiful Cosette, Keola Aho met the challenge of playing Enjolras and James Whalan gave an impressive and genuine performance as Marius.
Greg Ballantyne and Christa Radley added the comical relief of the Thenardiers absolutely brilliantly. They were a joy to watch.
This was a stage loaded with mind-blowing acting and musical talent including 17 members who had never been on stage before. But Aaron was the rock of the entire production performing in almost every scene from start to finish, sweeping up the audience and taking them to another place and time.
Aaron said it was a challenge, a pleasure and a lot of hard work. "A real rollercoaster of emotions."
"Pure joy," said Shevaun of her role as Fantine.
Other great achievements of this production include a praiseworthy green tick with 80% of the costumes made out of recycled doona and quilt covers, bed sheets and curtains.
It is also the first time in decades that men outnumber the women in the cast with 22 men and 21 women.
Les Misérables is still showing at the Little Theatre until Sunday, 6th October. Book your tickets at www.parkesmandd.com.au or buy your tickets at Regional Business Supplies.
By Beth Thomas