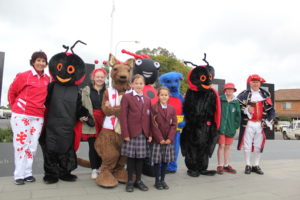 The warmth of friendship and books can turn a freezing day into a memorable one. This is what about 500 pre-school and primary school children experienced last Friday at the annual reading day with the theme Paint Parkes REad with Friends.
"It was a fantastic day with a very good turnout," said co-ordinator Pietta Bridge of Neighbourhood Central. "We had nine schools attending that includes all the primary and pre-schools in Parkes." The Reading Bug invited his friends and was joined by Ruby Roo from Penrith and Billy Booksie from the Blue Mountains. Billy jumped out of the big parcel he arrived in much to the delight and surprise of the children.
The release of pigeons with nine of them carrying messages written by the Reading Bug for each of the participating schools, was another highlight and a first for the event. "This is how messages were sent before the arrival of mobile phones," said one of the organisers.
The main message of Paint the Town REad, which was developed in Parkes in the 1990s and has since spread to more than 50 locations across Australia, is the importance of reading, singing and talking to your baby from birth.
"This day is always so exciting," said Sherree Rosser, committee member and one of the original instigators of the event. "The message is getting through, as we now get high school students who remember the reading days and take time to read to their nieces and nephews."
By Maggi Barnard