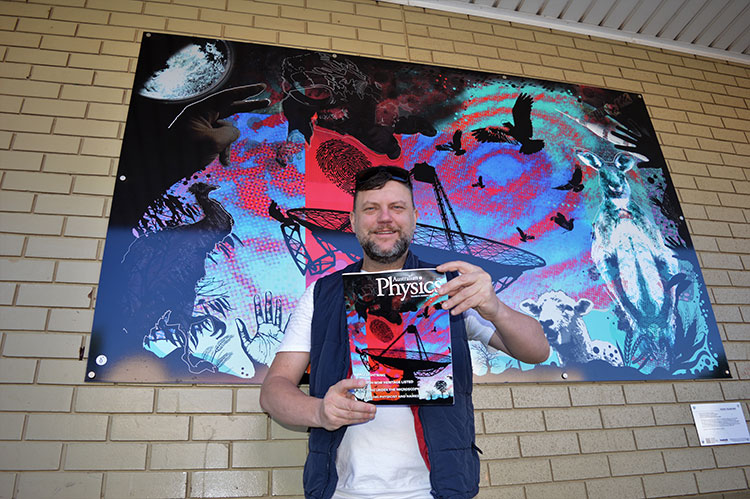 Growing up in a family where watching the stars has always been a big thing, artist Sean James Cassidy was left with stars in his eyes recently when a prestigious science magazine featured one of his artworks on its cover.
The Australian Physics edition, which coincided with the heritage listing of the CSIRO's Parkes Radio Telescope, used a section of a larger work of Sean, which is on permanent display on the Woolworths wall in the main street of Parkes called Radio Telescope.
Sean's digital art work is based on a poem by his aunt, Kerrie Peden also from Parkes. The work depicts the importance of the harvest as the radio telescope sits in farming land. Native animals represent Goobang National Park to the east and hand prints signify the human spirit that has reached out and touched the moon.
The featured work is one of three based on poems by Sean's father and Kerrie that are on permanent display and were installed for the 50th anniversary of the moon landing, in which the Parkes Radio Telescope played a vital role. The other two works are called Blood Moon and Millenia Wandering.
"It was an honour to be featured, and it was really important for this year," said Sean. "It has helped me to reflect on my work, and made me realise I need to look after my own art while championing the work of others." He said it was good to be reminded that he was doing a good job.
His relationship with the telescope started in his childhood when they used to collect horses from Alectown and Peak Hill. "I loved seeing the telescope out there and how big it looked from a distance. My grandfather's farm was also out that way and when we went there for Christmas, we could see it from their house."
Sean's childhood memories and experiences of watching the stars with his family (he clearly remembers a newspaper article about his grandfather seeing Haley's Comet twice) keeps on inspiring him to explore iconography from around the world. He is currently working on an exhibition with Professor Virginia B Dandan from the Philip- pines based on linking art and physics.
This project, called Melodies of Woven Light with sub-title Millenia Wandering, is an exploration of art as a universal language, studying the importance of mark making towards the creation of symbols to form a language for understanding, navigating, communicating, recording and celebrating our relationship with our universe.
Local artist Scott Turnbull and other members of Ub Ubbo Exchange will also be contributing to the exhibition, planned for a mid- year opening in 2021.
The poem that inspired Sean to do the artwork featuring the Parkes Radio Telescope.
Radio Telescope
It stood with its hands on its hips
And its nose pressed up against the stars,
Listening to the gossip of the galaxies,
Trying to catch the whispers of how it all began.