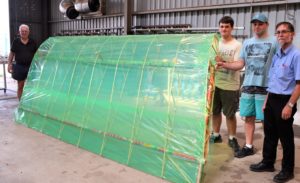 The hilarious Birdman Rally in Melbourne will have a strong Parkes presence this year with teams from both local high schools entering a design by students to plunge into the Yarra River for charity. The Parkes High School team will aim to fly across the Yarra river with one student leaping off a four-metre platform for the first time on 10th March.
Nine Parkes High School engineering students started work on their design in the fourth term of last year and during the Summer holiday to get their ultra-light biplane with four wings ready for the event.
Inspired by local pilot with 60 years' experience Neil Unger and their teacher David Warburton, the biplane is nearing completion with each wing measuring 8m wide, 3m long and 2.4m high. They have used bamboo, aluminium soft drink cans, fibre glass and metal fishing line and hope the total weight to be just under 30kg.
Neil, who has been to four rallies, made the suggestion to Parkes High to enter this year. "It is a great experience to get students interested in aviation as the industry desperately needs people."
For the students it is a wonderful opportunity to put their engineering knowledge into practice. "I am very keen to see how it goes," said one of the nine students Zane Pierce. For Will Bevan the experience so far has been great for gaining a lot of knowledge and experience on aeronautical engineering.
Parkes High School will be competing with Parkes Christian School in the school's category. They will be judged on the distance flown, design features and materials used. The Parkes Christian School have been competing a couple of times winning the rally in 2017.
By Maggi Barnard