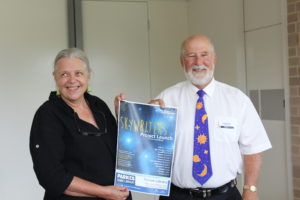 Ten local writers attended the launch of the Parkes chapter of Skywriters at the Library last Wednesday. Many more scribes are interested in the project but were unable to attend. They will each seek celestial inspiration to pen a work of up to 3,000 words, and many had already found their muse.
The Skywriters Project aims to connect communities of regional writers across inland NSW, and is just one of a dozen groups scattered in the 700km array from Canberra to Narrabri. The groups support writers to create a short piece of any genre that is inspired by our southern sky. The project will run for two years, providing feedback and editorial support to the writers, who will see their finished stories published online or in an anthology.
Mayor Ken Keith joined Dr Merrill Findlay and the Library's Shelley Buckle and Dan Fredericks at the launch. While Merrill was delighted with the interest – which has been strong across the groups – she was not surprised by the regional talent. "Inland NSW used to be the heart of literary culture in Australia," she said, "but now that hub has moved to the coast and the cities. Skywriters is a chance to challenge those urban stereotypes of inland Australia."
The Skywriters' cluster is part of a galaxy of projects called the Big Skies Collaboration. It is a collaboration between regional writers, artists, and astronomers with the shared objectives to explore the intersection of art and science. The various creative works produced will be inspired by the big skies of inland rural Australia. The project will also feature Wiradjuri cultural astronomy. The project will conclude in 2019, coinciding with the 50th anniversary of the Apollo 11 Moon Mission – an event that is just one of Parkes' own sky stories.
By Raen Fraser