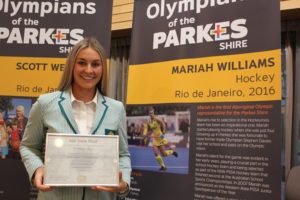 Olympic fever returned to Parkes last weekend when local Hockeyroo star Mariah Williams came home.
She visited schools, handed out many autographs, took countless photos, and also became the very first recipient of a Star of Parkes Shire at a civic reception held in her honour.
"This evening we recognise excellence in sport at an international level. Mariah is just that, a sports star," said Ken Keith, interim Mayor.
"Tonight we present the first Star of Parkes Shire, a star in the Orion Belt that can be seen in the night sky in the Southern Hemisphere. And as of today, named after this sports star, Mariah Williams."
Ken said The Star of Parkes was a symbolic honour, inspired by the tradition of presenting the Key to the City. "The Stars are reflective of the Parkes Shire – our starry skies, the iconic CSIRO Radio Telescope and our shining future.
"We are proud of you and the wonderful ambassador you have been for Parkes Shire and for Australia in the 2016 Olympic Games." Mariah said she was proud to call Parkes home and thanked everybody who have given her so much love and support in her journey to Rio.
She said playing for Australia had been a childhood dream since Year 3. "It is hard to describe the feeling when I first ran onto the Olympic field in Rio. I had this burning sensation all over my body. It was unreal!"
By Maggi Barnard