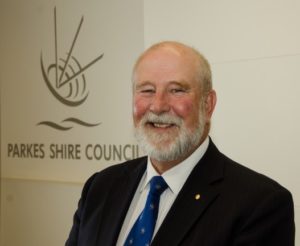 This week we pay tribute to music legend Phil Emmanuel, who sadly passed away last Thursday evening from a sudden asthma attack. We are privileged to have had Phil feature at this year's Parkes Elvis Festival, performing the Guitars of the Era concert in the Little Theatre. Phil and his brother Tommy, were also inducted into the Elvis Wall of Fame, which will now serve as a lasting legacy to the musical talent.
This week the Parkes Shire marks Reconciliation Week, with the theme 'Don't Keep History a Mystery'. The Galari-Lachlan Reconciliation Group invites locals to view an exhibition in the library showcasing both contemporary and ancient Wiradjuri history, which is rich in the Parkes area. The dates commemorate two significant milestones
– the successful 1967 referendum and the High Court Mabo decision.
Recently I attended the inaugural meeting of the new Central NSW Joint Organisation (JO) of councils. Parkes Shire Council has transitioned from Centroc to the new JO,  joining forces with 10 Central West councils to push state and federal governments on important issues such as improved road links to Sydney, better telecommunications, upgraded health facilities and continued development of regions.
A number of road projects are nearing completion this week. The Saleyards Road project saw our crew carry out widening of the road, pavement rehabilitation, correction of super elevations and grade table drains. The causeway repair along Oliview Road (SR26) has wrapped up, the work consisted of reconstructing the causeway, headwalls and road approaches. Our township crews have also begun utilising the new portable 'bladder' storage unit, which holds 100,000 litres of water. The unit enables our crews to carry out works in remote and isolated parts of the shire. The new bladder is currently feeding the re-sheet of Adavale Lane (104) near Goonumbla.
Have a safe and enjoyable weekend,
Cr Ken Keith OAM
Mayor of Parkes Shire