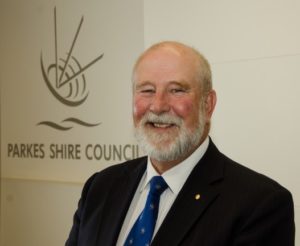 Welcome to all the players, officials and families visiting Parkes this weekend for the under 15s Boys NSW State Hockey Championships. Congratulations to Parkes Hockey Inc for delivering these major sporting fixtures for our community to enjoy and benefit from.
I attended the 2018 National General Assembly of Local Government in Canberra this week to engage directly with Federal Government to develop national policy and influence the future direction of our Council and community. The Council meeting was postponed until Tuesday, 26th June at 2pm.
Works will commence this weekend to repair and improve road surfaces in Court Street, Church Street and the northern end of Clarinda Street until Thursday.
Council is ensuring that children are safe in vehicles with free child restraint checks at Lions Park on Thursday, 28th June from 10am – 2pm.
Parkes Shire Library welcomed author Julie Ankers this week to discuss her latest work 'Call Me Frank'.
Local businesses are encouraged to take advantage of the NSW Government's Business Connect Bus which will be in Parkes on Thursday, 28th June from 9am to 3pm at 203 Clarinda Street. Book a free session at www.industry.nsw.gov.au/businessconnect
We wish everyone a safe and enjoyable weekend in the Parkes Shire.
Cr Ken Keith OAM
Mayor of Parkes Shire