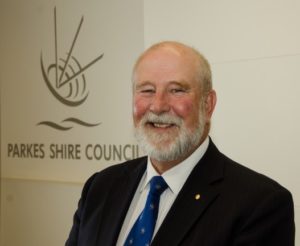 I was pleased to see a number of local artists receiving accolades at the Regional SIMS Metal Waste to Art & Design Competition currently on exhibit in Narromine. Congratulations to winners Middleton Public School who took out the award for Building/Sculpture 2D, Anette Peterson for the Curators Award and John Grady for the Sims Scrap Metal Award.
Council welcomed the re-instatement of the Access Committee this week, with a kick off meeting held on Tuesday. The Access Committee has representation from across the community including agencies such as Neighbourhood Central, Currajong Disabilities and Lachlan Area Health. They come together in the aim to build awareness and understanding of access issues across the shire and to advise Council and make recommendations on addressing these matters.
Council has completed road surface upgrades in the Parkes CBD including asphalt works in Court Street, Church Street and the northern end of Clarinda Street. Thank you to the businesses and community members for your patience while these important works took place. Crews are also continuing work to upgrade the Kelly Reserve carpark to improve safety, access and movement within the precinct. Works are expected to be completed by early next week.
The Recycled Water Scheme is moving into Phase 2, which will entail the construction of a Recycled Water Rising Main (RWRM) to deliver clean and 'green' recycled water for irrigation. The scheme will essentially drought-proof selected sporting fields and green-spaces, ensuring our parks and public gardens can be maintained year round.
While the scheme is not available for household use it will offset demand for potable water, reducing the need for bore water top-ups during peak use. Construction of the new RWRM pipeline is expected to commence in November this year.
Returned local artist, Alice Stokes will be sharing some of her work with Parkes Library for an exhibition during July. Alice's "Australian Gothic Local" art works will be on exhibit at Parkes Library from 3rd to 28th July.
We wish everyone a safe and enjoyable weekend in the Parkes Shire.
Cr Ken Keith OAM
Mayor of Parkes Shire