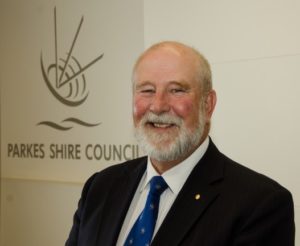 Parkes will welcome over 350 delegates for the Inland Rail Joint Industry Conference on 18th and 19th July. Presented by the Australasian Railway Association and the Australian Logistics Council, the conference will commence with a welcome reception on Tuesday at Ikon followed by two days of sessions at the Parkes Leagues Club.
Parkes will be in the spotlight with a huge range of industry representatives, government agencies and officials in attendance. A timely new marketing initiative to promote the Parkes National Logistics Hub was launched this week with 12 travelling billboards installed on SCT Logistics' trailers. The artwork will be in market for six months with the trucks travelling between Parkes and Western Sydney daily, creating awareness and attracting enquiries from potential investors and businesses.
Council hosted a business briefing workshop on Wednesday about the Recycled Water Rising Main construction project. Over 50 potential contractors and interested local businesses attended. To find out more about this project visit Council's website under the Environment Section.
Congratulations to Parkes Shire Aboriginal Project Officer Amanda Corcoran and local Wiradjuri artist Irene Ridgeway on the fantastic art exhibition and program of events held to celebrate NAIDOC Week 2018 in the Parkes Shire.
With a number of existing Parkes Shire members stepping down in the near future, the Lachlan Health Council is seeking interest from local community representatives to join their board. Anyone interested can get in touch with me.
Finally, this weekend will see the 2018 Central West Astronomical Society's (CWAS) AstroFest with a conference on
Saturday (tomorrow) in the Coventry Room featuring a stellar all-female line up of guest speakers. The second day is held at the CSIRO Parkes Radio Telescope, with the official opening of the David Malin Astrophotography Awards Exhibition at the Visitor Centre. If the stars align, and the sun is shining, you can gaze through a telescope and view bright stars, planets, the sun and the moon during the daytime. For the full programme of events, visit www.cwas.org.au/astrofest.
Have a safe and enjoyable weekend
Cr Ken Keith OAM
Mayor of Parkes Shire