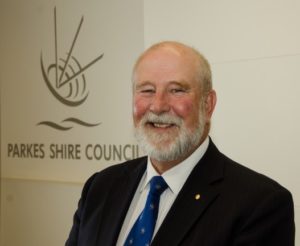 I was delighted by the announcement of $4.2 million in funding for Parkes by the Member for Riverina and Deputy Prime Minister the Hon. Michael McCormack on Monday. The funding will go towards the revitalisation of lower Clarinda Street and a multipurpose centre development in Cooke Park at a total cost of $8.5 million. This
significant infrastructure project will drive growth in the local and regional economy and deliver social benefits through increased community pride, cohesion and well-being.
Parkes welcomed 400 delegates to the Inland Rail Joint Industry Conference hosted by the Australasian Railway Association (ARA) and the Australian Logistics Council. Key note presentations were given by the Deputy Prime Minister the Hon. Michael McCormack MP, CEO ARTC John Fullerton and the Hon. Melinda Pavey MP Minister
for Roads, Maritime and Freight. The discussions and presentations focused on how Inland Rail is a nationally significant transport initiative that will transform Australia's freight networks, enhance supply chain efficiency and safety, boosting export competitiveness and unlocking regional development and employment opportunities for local communities.
Parkes Shire Council is urging locals to 'Take the Lead' as part of its new Responsible Dog Ownership campaign launched this week to raise awareness about the roles and responsibilities of pet ownership, with the aim of reducing the number of roaming dogs and dog attacks. A Take the Lead pocket guide is available from Council's Administration Centre, the Parkes Veterinary Clinic or on Council's website.
Three successful authors Kim Kelly, Kim Hodges and Jenny Old, will be visiting Parkes Library from 26th July to discuss their new books and share their stories with the Parkes community.
Parkes Shire Council and Central West Lachlan Landcare are partnering to invite residents to plant trees and shrubs for Planet Ark's National Tree Day on Sunday, 29th July. This year's National Tree Day event will be held at 10am at Akuna Road, off Eugowra Road adjacent to Parkes' new Advanced Water Recycling Facility. Have a safe and enjoyable weekend.
Cr Ken Keith OAM
Mayor of Parkes Shire