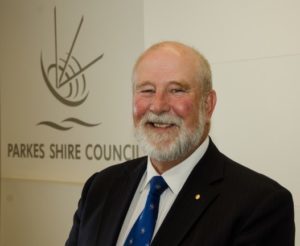 Residents are invited to join Council staff and Central West Lachlan Landcare to take part in Australia's largest community treeplanting and nature care event this Sunday, 29th July. National Tree Day is a chance for locals to give back to the environment.
Tree planting will commence at 10am at Akuna Road, off Eugowra Road and will conclude with a free barbeque for all participants to enjoy.
Council staff will soon install new Take The Lead signage throughout town as part of the Responsible Dog Ownership campaign launched last week. The signage will serve as a prompt for dog owners about the roles and responsibilities of pet ownership, with the aim of reducing the number of roaming dogs and dog attacks. Residents can pick up a Take The Lead pocket guide from Council's Administration Centre or Parkes Veterinary Clinic or it can be downloaded from Council's website.
This weekend Council's tourism team will travel to Orange to attend the Regional Tourism Awards. Council, Parkes Elvis Festival and Parkes Visitor Information Centre are among 78 leading tourism businesses, events and visitor experiences across Country and Outback NSW nominated as finalists.
Residents and motorists are advised that Council crews will be installing new stormwater pipes and constructing new kerb and guttering along Station Street next week.
The work is expected to take approximately six weeks but will not involve road closures. Instead, traffic control in the form of stop/go signs will be used.
A reminder that applications for Council's Local Heritage Fund close next Tuesday, 31st July at 5pm. The Fund aims to assists owners and/or lessees of significant land or heritage buildings with funding for projects on a matched dollar for dollar basis. Application forms can be downloaded from Council's website, and hard copies are available at Council's Administration Building.
Have a safe and enjoyable weekend.
Cr Ken Keith OAM
Mayor of Parkes Shire