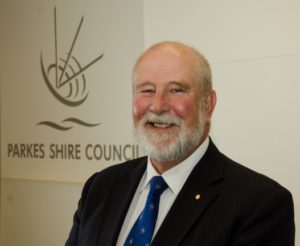 A momentous occasion occurred yesterday for Parkes Shire, and indeed the nation, with the first sod turned on the Inland Rail project by Deputy Prime Minster The Hon. Michael McCormack MP.

Congratulations to Paul and Emma Brown and their team on the fantastic Carols in the Park on Sunday. It was great to see a fresh approach that was welcomed by the hundreds who enjoyed a night of community spirit and festive cheer.

After opening the first Australian 24-hour public library in Tullamore in September 2016, the Trundle 24-hour library was officially opened last Friday. With Christmas just over a week away, Council is pleased to give the community a special gift this Christmas with the launch of the Shop Parkes gift card program.

Parkes Shire Council has partnered with Why Leave Town Promotions. As this program is just being rolled out, we are working on getting more local retailers and service providers on board, and would like to hear from any business keen to be part of the program. Head to www.visitparkes.com.au
for more information.

A reminder that the Parkes Waste Facility is holding a free tip weekend tomorrow and Sunday. For more information on what can be disposed of, visit www.parkes.nsw.gov.au.

Have a safe and enjoyable weekend
Cr Ken Keith OAM
Mayor of Parkes Shire