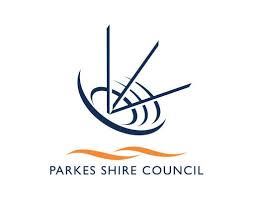 I am elated to announce that Council has been selected as a finalist in the Destination Marketing category of the 2016 NSW Tourism Awards for the development and implementation of the 'Parkes it all adds up' brand and associated campaigns. I am dually excited that the Parkes Elvis Festival has also received finalist status in the
Festivals and Events category. The NSW Tourism Awards are held annually to celebrate and acknowledge tourism excellence across the State. The winners will be announced at a Gala Celebration at Luna Park in Sydney on 24th November.
Parkes is moving into the digital future with the construction of the National Broadband Network (nbn™) getting underway this week. More than 5,700 homes and businesses in Parkes will soon have access to a world of new opportunities, with crews in town to check pits and pipes, lay fibre backbone to the network and install node cabinets.
This week Council welcomed NSW Roads Minister, The Hon Duncan Gay to Parkes to inspect the damage to the Shire's roads caused by recent flood events and wet weather. Parts of the Shire's road network has suffered extensive damage and motorists need to be aware that there may be pot holes and defects that pose a major risk to road users.
Locals are encouraged to grab yourself some handmade and homegrown produce at the UpMarkets in Cooke Park on Sunday.
While the school holidays are drawing to a close, residents and visitors still have plenty of time to access the special deals on offer at our local attractions, shopping outlets and cafes by downloading your 'Colour Pass' from www.visitparkes.com.au.
Enjoy your weekend.
Yours Faithfully,
Cr Ken Keith OAM
Mayor of Parkes Shire