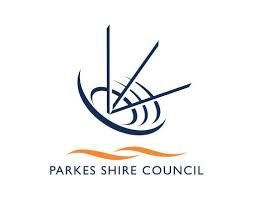 This week, Council staff joined members of the Parkes Rotary Club to complete the landscaping on the new Peace Precinct at the Rotary Arbotorium. Residents will soon be able to enjoy the space designed for reflection and to gather each year for world peace. Five wooden pillars, designed by local artist Sean Cassidy, have been installed along a dry creek bed representing Respect, Rejection of violence, Resolution, Reconciliation and Freedom. An official dedication ceremony is planned for 28th June at 11am and the community is invited.
On Wednesday we acknowledged the important role local educators play in our community as part of National Family Day Care Week. Central West Family Day Care hosted a superhero-themed disco in the Coventry Room, providing an opportunity for the children, families and carers to celebrate the service.
As part of Law Week, held from 15th to 21st May, Parkes Library hosted an event promoting community awareness around online scams. Cyber Safety for Older people outlined the common online scams residents may encounter, and provided practical tips on how to protect yourself.
Parents and supervisors of local learner drivers are encouraged to attend a free workshop at Parkes High School on Tues- day, 30th May. Helping Learner Drivers Become Safer Drivers will offer hands-on advice on how to provide the most effective driving practice for learner drivers. To book your spot call 6861 2364.
Enjoy your weekend.
Yours Faithfully, Cr Ken Keith OAM Mayor of Parkes Shire