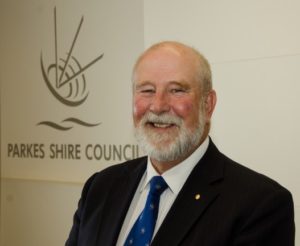 I was delighted to accept the RH Dougherty Award for Excellence in Communications on behalf of Parkes Shire Council at the Local Government Awards held in Sydney last week. I must thank the community for its feedback regarding our communications, which formed the basis for the design and functionality of the new website.
This week we marked a monumental milestone in the construction of the new Sewage Treatment Plant, with the switch over of operations to the new facility on Monday.
This signifies the project is nearing completion, with an official opening later in the year.
August marks show season. It is Tullamore's turn today and tomorrow. Residents and visitors can enjoy a full day of activities. View the full program at www.tullamore.org.au. The Trundle Show is next week with Wednesday, 16th August gazetted as a public holiday to encourage locals to support the event. Council staff will be at each of the Shire shows to answer any questions.
The Love Our Locals campaign continues to see tremendous success on social media. I encourage residents to share the love by liking and sharing the campaign posts on the Visit Parkes Facebook, Twitter and Instagram pages.
Have an enjoyable weekend.
Yours Faithfully,
Cr Ken Keith OAM,
Mayor of Parkes Shire