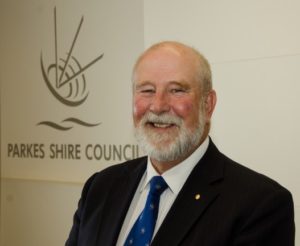 This week I joined the Parkes and District Historical Society (PDHS) in signing a three-year lease of occupation of the Henry Parkes Museum. This partnership will ensure the preservation of Parkes Shire's history and provide certainty for the PDHS to continue development of the museum and maintain stewardship of the historical memorabilia of the area.
In another monumental contract signing, the legacy of Elvis will forever live on in Parkes, with Council partnering with the Elvis Revival Inc Committee to commission a statue to be permanently displayed in town. The Elvis statue will be a fitting dedication to our wonderful volunteers, and will be designed and constructed by sculpture Terrance Plowright, the same artist who sculpted the Henry Parkes monument located in the town square. The Elvis Revival Inc plans to unveil the new Elvis statue during the 2018 Parkes Elvis Festival.
Trundle Bush Tucker Day is only two weeks away with a stellar line up of activities planned for the first weekend in September including country music sensation Beccy Cole. I encourage everyone to get along this year and support this unique, family-friendly local event. To purchase tickets and for all the details, visit www.trundlebushtuckerday.
com
Residents are reminded to stop by the Council stand at the upcoming Peak Hill and Parkes Shows, with staff on hand to chat about our works, services, events and initiatives. For all the details about the Shire Shows, head to www.visitparkes.com.au.
Have an enjoyable weekend.
Yours Faithfully,
Cr Ken Keith OAM
Mayor of Parkes Shire