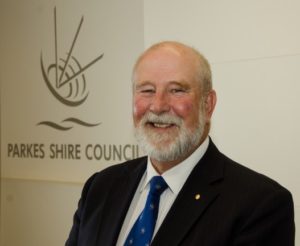 Residents and pedestrians will be pleased with the footpath works that were completed this week at the southern end of Bogan Street. Council's works crews re-aligned and constructed the new 1.8m wide footpath to improve mobility and link-ups within the town.
Congratulations to the Trundle Bush Tucker Day for another successful event attracting visitors from far and wide. It is a credit to the volunteer organisers who put in so much time and effort to an event that gives so much back to the Trundle community.
Parkes continues to appeal as a destination for major sporting events with the announcement that Parkes will welcome two State Hockey Championship tournaments in 2018 at the Cheney/McGlynn Sporting Complex which now features two international standard synthetic surfaces. Parkes will host the Over 50s Men's Masters and the Under 15s Boys Championships in May and June respectively.
Legendary Australian author and illustrator Leigh Hobbs will be in Parkes for the Curiosity + Wonder celebrations on 13th and 14th September. Leigh Hobbs is the bestselling author of more than 20 books, and has a subversive humour that delights children and adults alike. Contact the Parkes Shire Library on 6861 2309 or visit Council's
website for more information.
Yours Faithfully, Cr Ken Keith OAM
Mayor of Parkes Shire