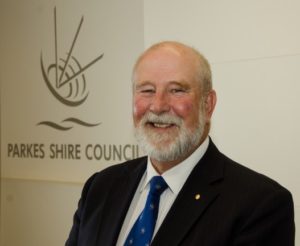 I was delighted to welcome the Minister for Tourism and Major Events, The Hon Adam Marshall to Parkes this week for the launch of the 2018 Parkes Elvis Festival and the official opening of the revitalisation works at the Peak Hill Gold Mine.
Residents and visitors are invited to the official unveiling of the new Peak Hill Community Wall art installation on 19th September at 12:30pm in the Commercial Gardens. The Community Wall is an extension to the Parkes Shire public art series to celebrate cultural and artistic diversity within the community. Current artworks are by Wiradjuri artist and Peak Hill resident, Scott "Sauce" Towney. The unveiling will coincide with the Ordinary Meeting of
Council at the Peak Hill RSL at 2pm.
Council have partnered with the Parkes and District Netball Association to resurface the eight netball courts at McGlynn Park to meet the needs of the current users and to attract larger competitions to the region. Council will contribute $64,490 under the Parkes Town Improvement Vote.
Council is taking enrolments for the Parkes Learn to Swim program for the 2017/18 swim season. Information and enrolment forms are available at www.parkes.nsw.gov.au. The Parkes Aquatic Centre will open on Saturday, 30th September at 10am.
Yours Faithfully,
Cr Ken Keith OAM
Mayor of Parkes Shire